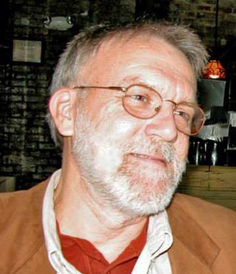 Born in Hattiesburg, Mississippi, Glenn has been involved in art in one capacity or another since beginning to study with Virginia Odom in 1967. He studied Fine Arts at the University of Southern Mississippi and Jackson State University. As his work has matured, the importance of drawing has led him to put down the brush and although he loves color, work predominantely in black and white. Working with pen and ink in a post impressionist style known as pointillism, drawings are composed entirely of dots. "With color the artist is able to show emotion on his/her canvas - with black and white emotions are pulled from the viewer."
Among many honors and awards, Glenn's work has been exhibited statewide and in juried exhibitions in New York City and Hartford, CN. June 6, 2019 the city of New Orleans opened a first of its kind exhibition "Grand Illusions - The History and Artistry of Gay Carnival in New Orleans" which includes Glenn's work. "Grand Illusions..." will remain on exhibit at the Presbytere through December 2020. The Meridian Museum of Art hosted a retrospective "Glenn Sanford - Memories on Paper" in January of 2000 and Jones Junior College featured an exhibition of his work and that of T. Hollingsworth-Williams in Feb./March of 2002. Permanent collections include The Lousiana State Museum, University Medical Center, Goodwill Industries, Mississippi Methodist Rehabilitation Center, Dillenberg & Friends (Phoenix, AZ), The Sunflower Archives (Olathe, KS) and numerous private collectors from Ireland to California.
In September of 1997, Glenn became the owner and resident artist of Southern Breeze Gallery. With the help of Gallery Manager Bill Jones, numerous Mississippi Artists and Art Patrons Southern Breeze grew into one of the larger and most popular galleries in the state, exhibiting exclusively Mississippi Artists. Selling the gallery in 2005, Glenn went to work with H.C. Porter and Karole Sessums, helping to found the nonprofit arts organization Backyards and Beyond and develop the exhibition "Backyards and Beyond: Mississippians and Their Stories - The First Year After Katrina". Glenn served as Assistant Director to this organization through December 2008.